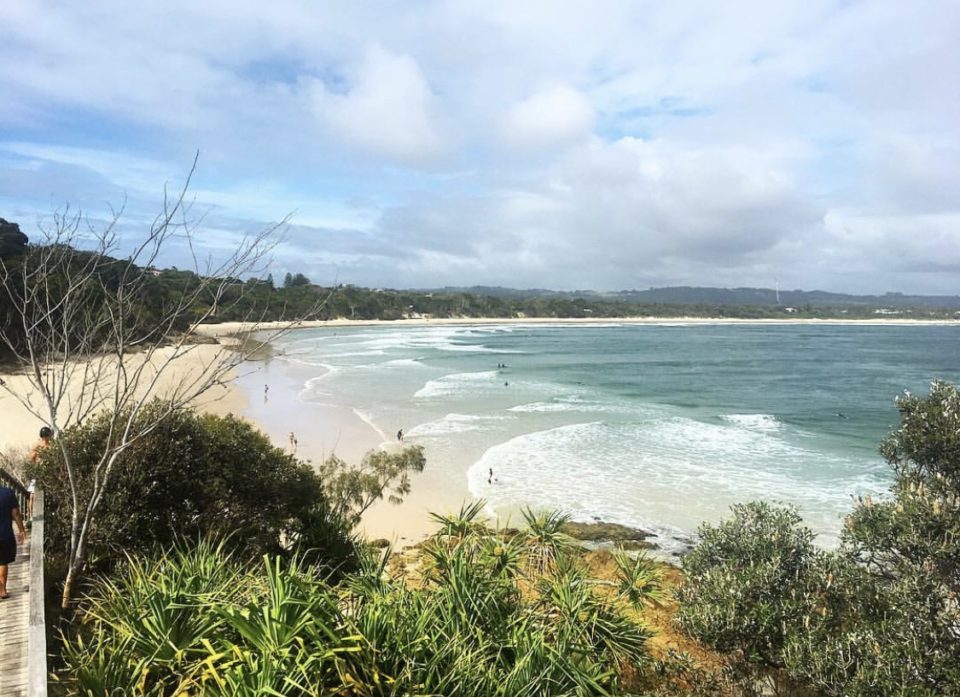 I have been to Byron Bay numerous times in my life but it really is true that distance makes the heart grow fonder.
Not long ago, I dreamed of taking California beach vacations, some places I am still not yet to visit. But now after being in California for almost 10 years, I have watched friends move away from Sydney in search of a more relaxed vibe, their Instagram snaps filling my feed. Suddenly, my thoughts wandered back to the beach town of Byron Bay. Where shoes are seen as optional but every smoothie bowl or avocado toast is just waiting to be instagrammed. Luckily, my Mother had been having this same thought so my next trip to renew my visa seemed like the perfect opportunity.
What is less than perfect is that I am never able to visit Australia for very long so we only had three days in Byron. On top of that, the weather decided to be a little moody. But nevertheless, we decided to make the most of the time we did have whether it rain, hail or shine. Luckily, the hail did not bless us with its presence and the humidity reminded us at all times that we were still very much on a beach vacation.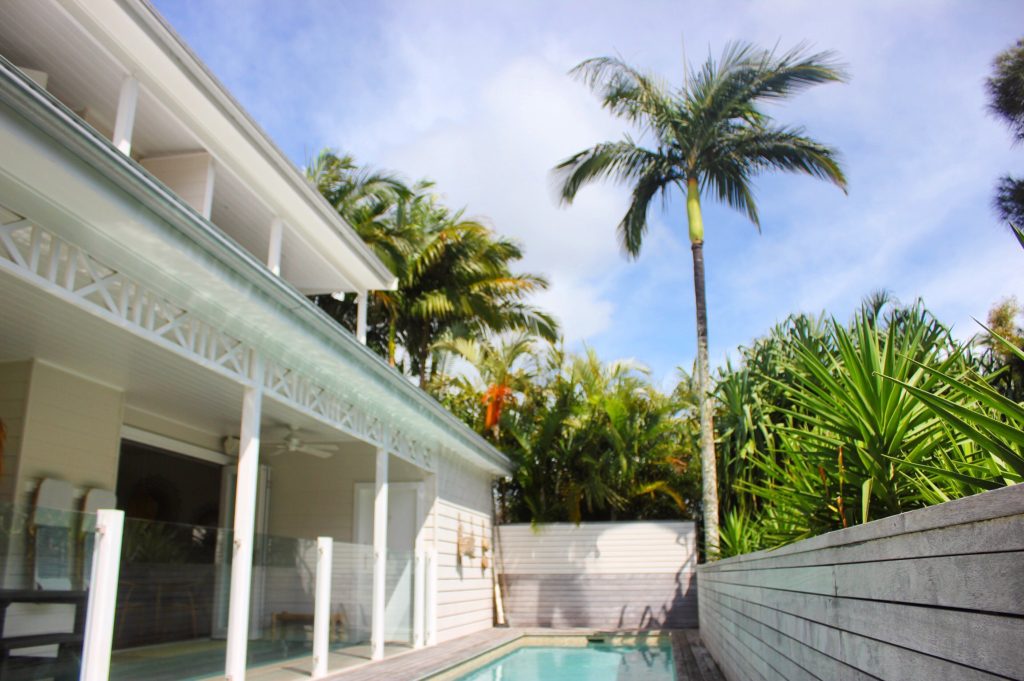 I can not recommend where we stayed enough. The Atlantic, Byron Bay is the most idyllic but practical hotel I have come across in a long time. The boutique residence is broken up into separate houses, each having its own vibe and charm to it but all including kitchen and common spaces for the rooms in that house to enjoy. The spaces, both inside and outside were straight out of your home inspiration pinterest board; patterned kitchen and bathroom tiles, the patio lounge swing you always wanted, oversized bean bags and don't forget the fire pit and private but very hipster Air stream in the backyard.
Please note, I'm not being facetious with the wording of any of this detail, this hotel was literally my dream come true and everything I wanted for my beach vacation. I really could have stayed there for months. The best part being that it was peaceful and everyone was very respectful of each other. It actually felt like we had the whole hotel to ourselves most days. And even better, it is right in town so everything you need in downtown Byron is at your front door.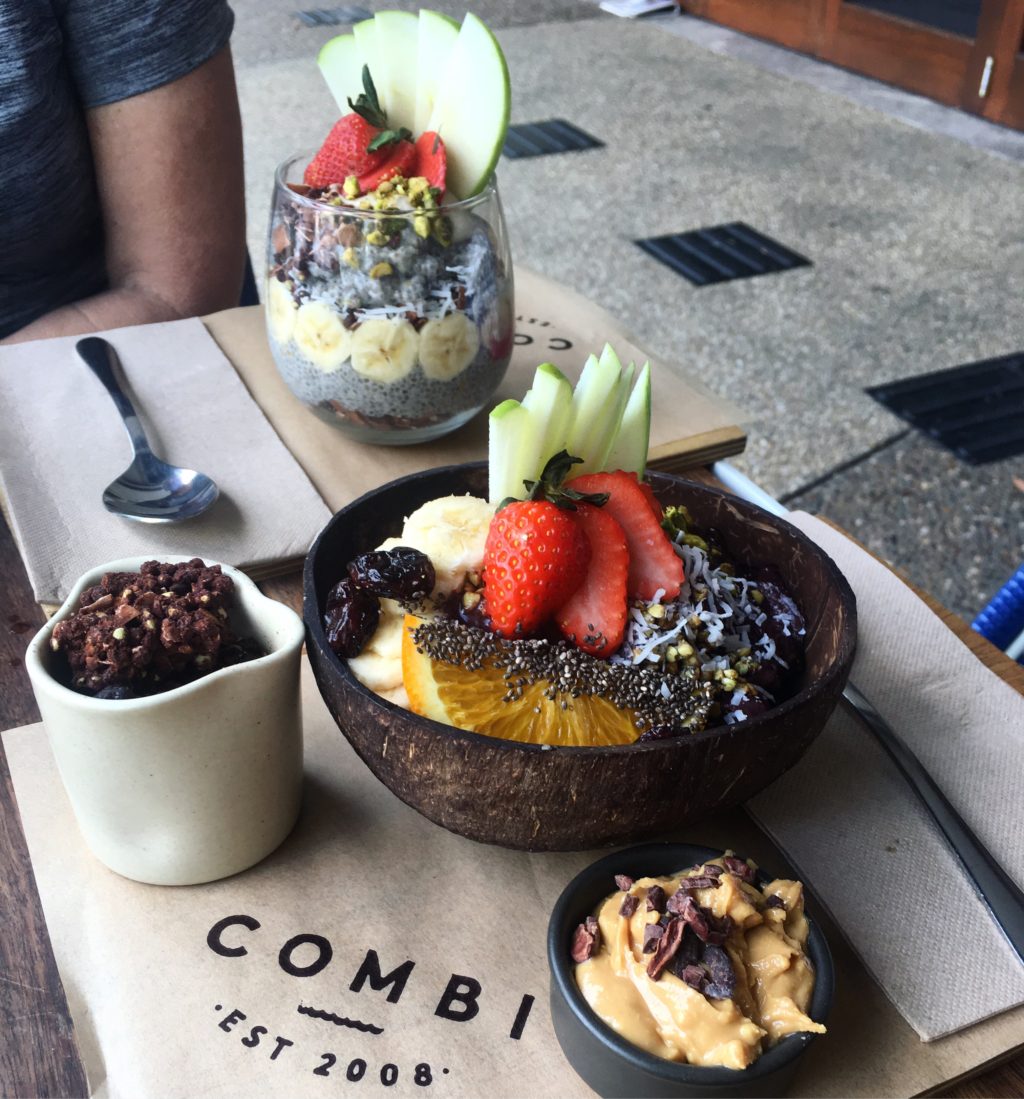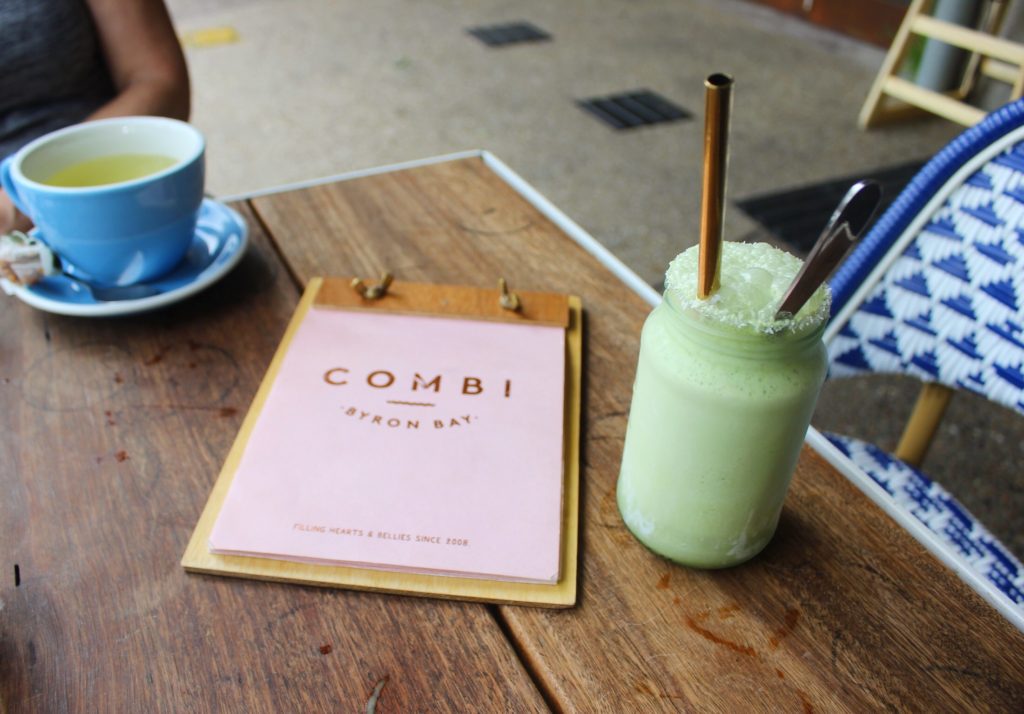 I had been waiting to visit Combi forever and it was 100% worth the wait. This place has the best Açaí bowl I have ever had in my life. It also had the best "milkshake" I have had in a long time (The Nutella shake from The Grounds of Alexandria at a close second). It was Matcha with coconut milk which is why I felt the need for quotation marks. It was better and lighter than any milkshake I have ever had.
My biggest regret of the trip may be that I wish I got to try more of the food at this place but we only had time to go the once.
Although, this was probably our least favorite breakfast of the trip, the view and the music (Cat Stevens/Yusuf Islam) made up for the service and the food. Maybe it just wasn't their morning, maybe they hadn't had any of their delicious coffee yet! Don't get me wrong, I'm always happy with Halloumi but it just wasn't our favorite due to how many amazing meals we had. The coffee as I mentioned was amazing and you can't go wrong with the view, even on an overcast day!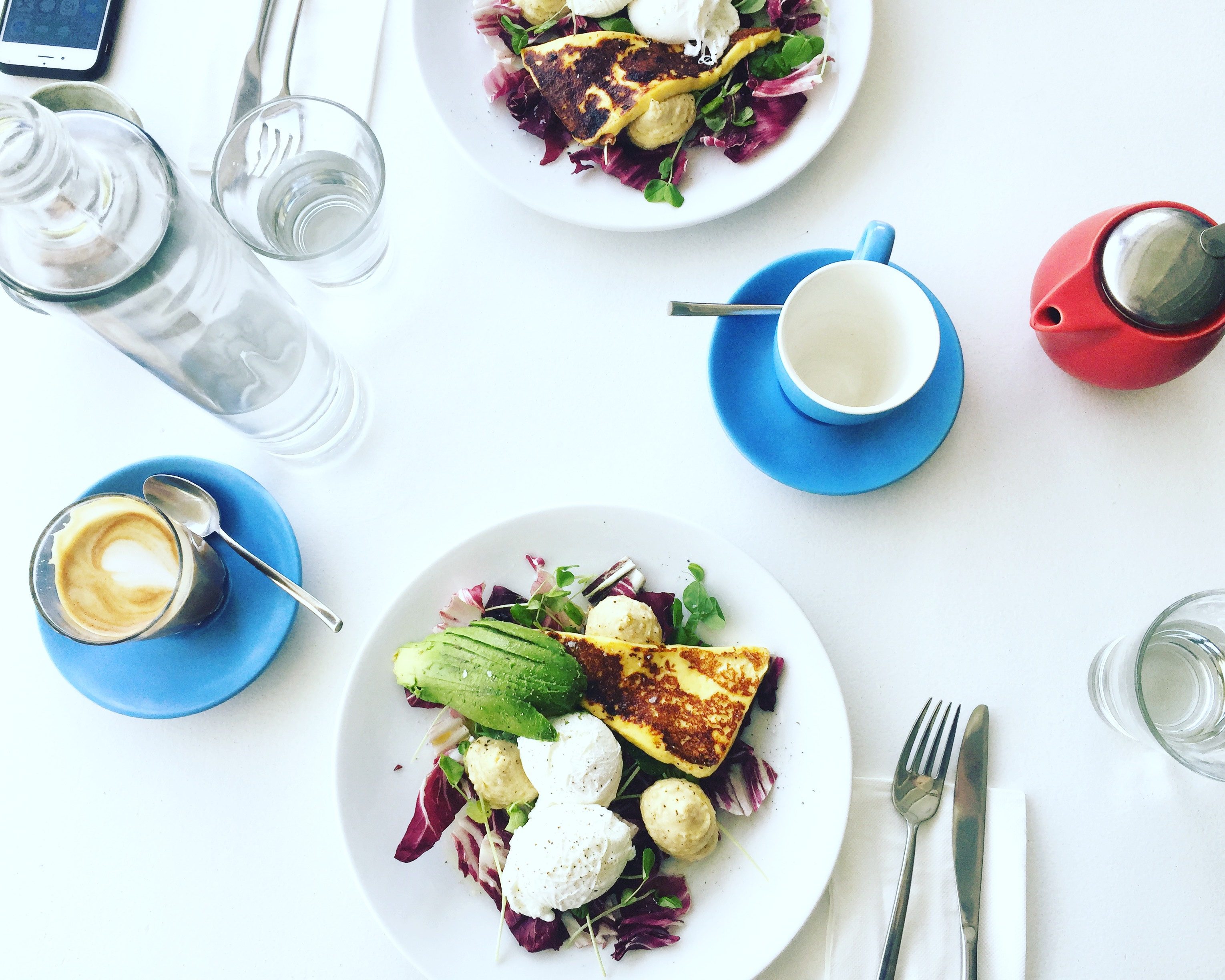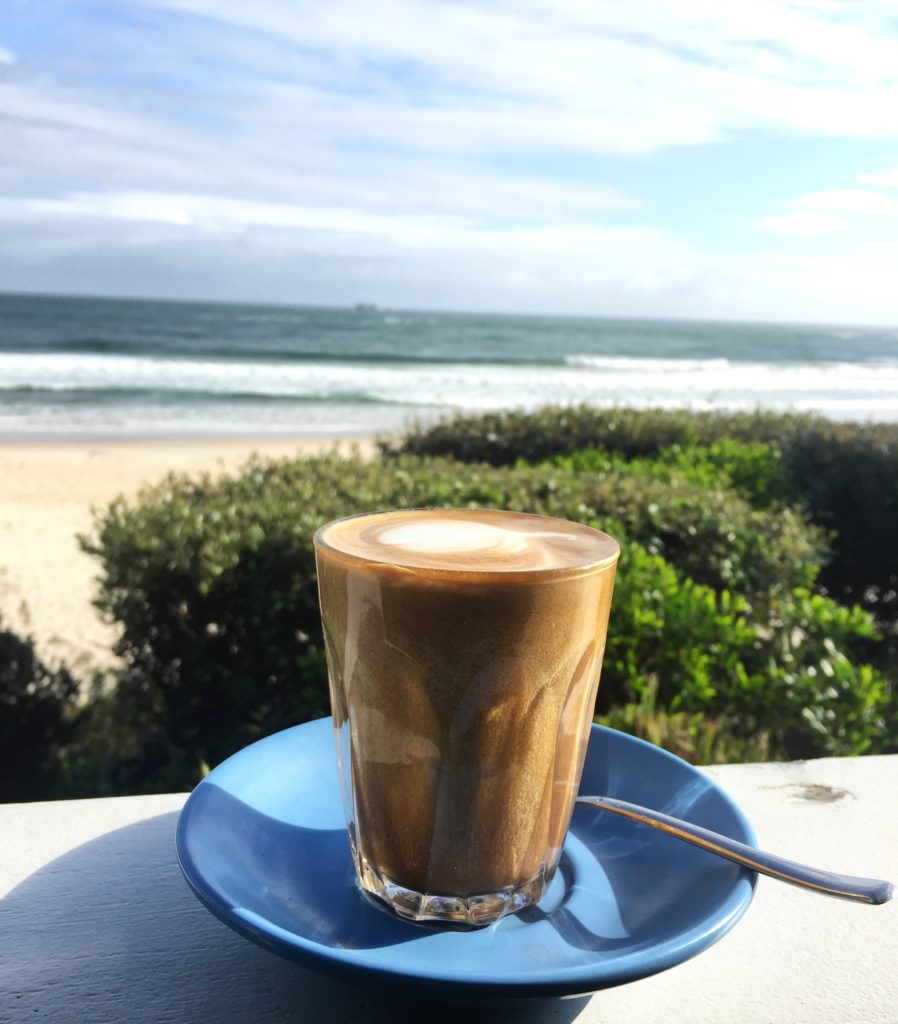 I was skeptical because Poké came later to Australia and I do prefer being able to choose options while they make it in front of you. I also scoffed at the "wild rice" over Sushi rice. Joke is on me because it was as good if not better than most poke bowls I have had in LA in the past 6 months (and there have been a lot). We took this to-go and ate it at one of our hotels many outdoor patio areas.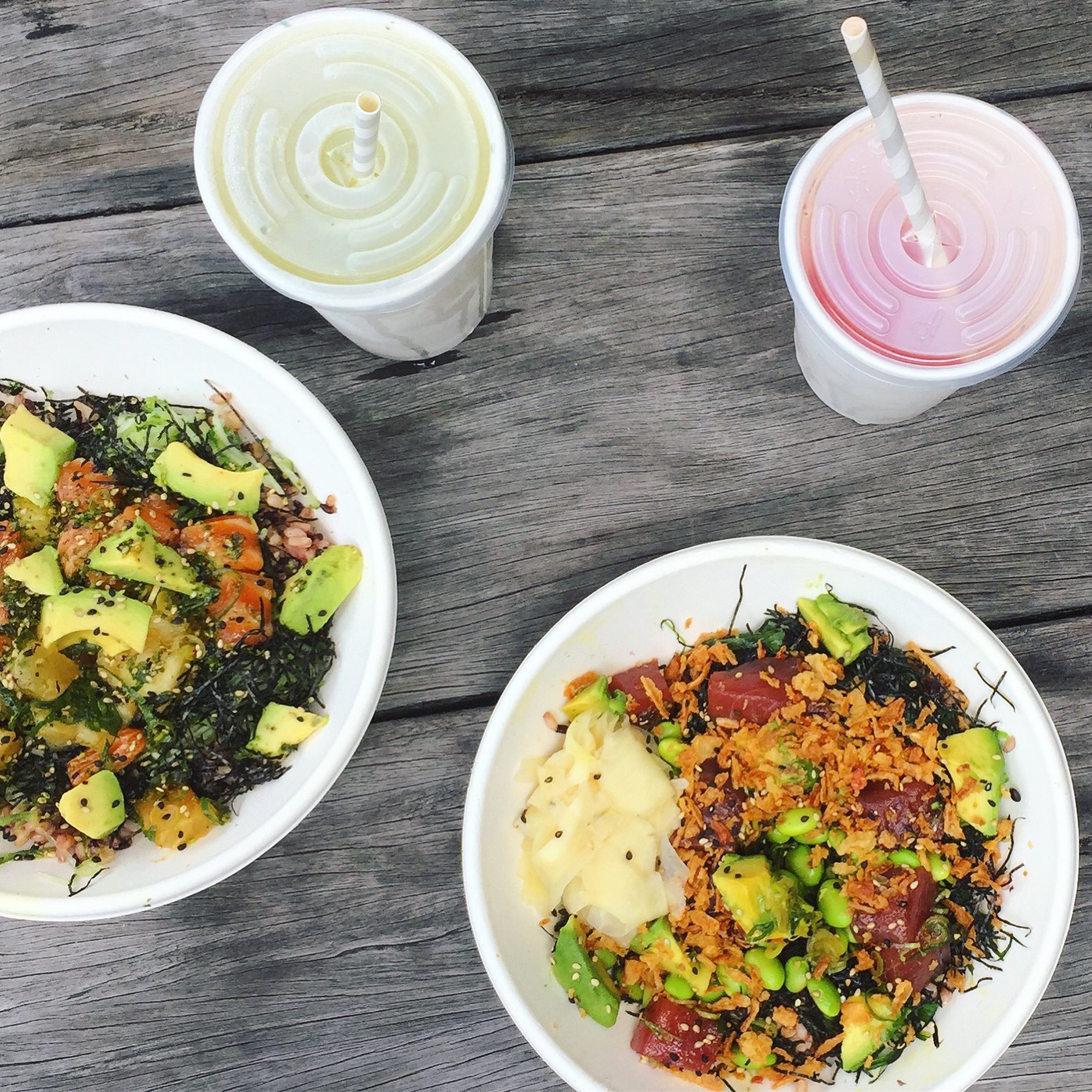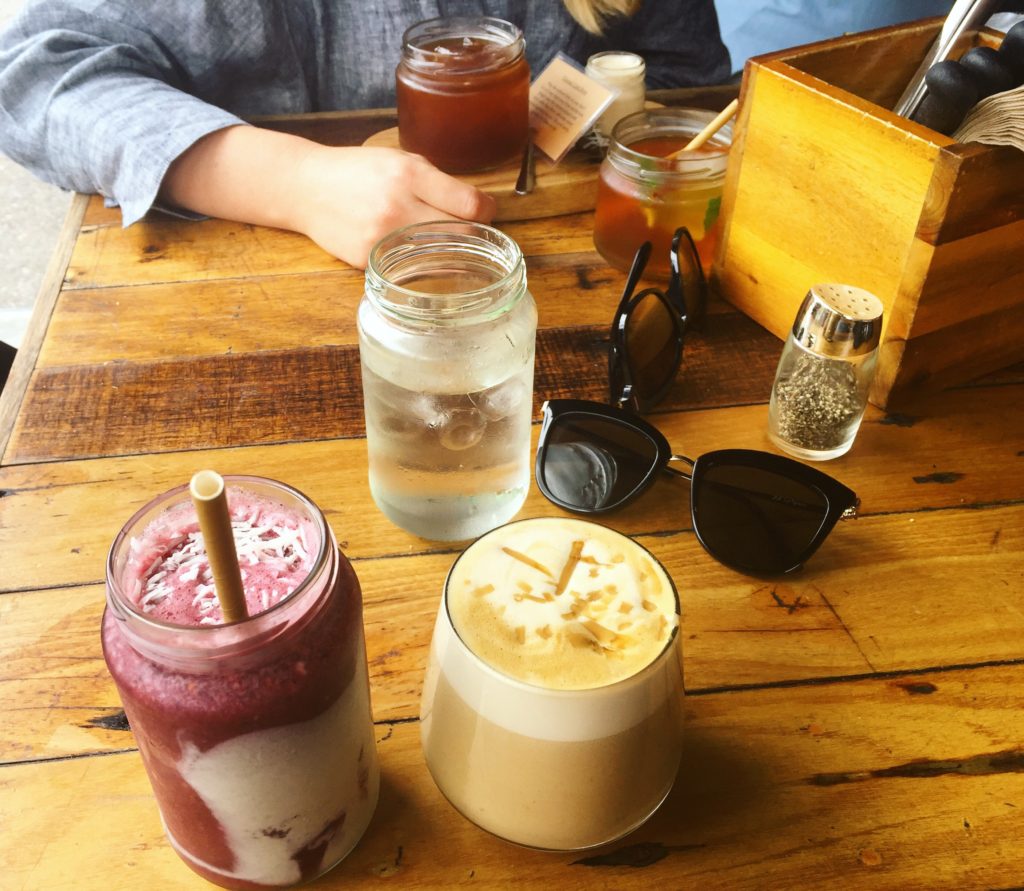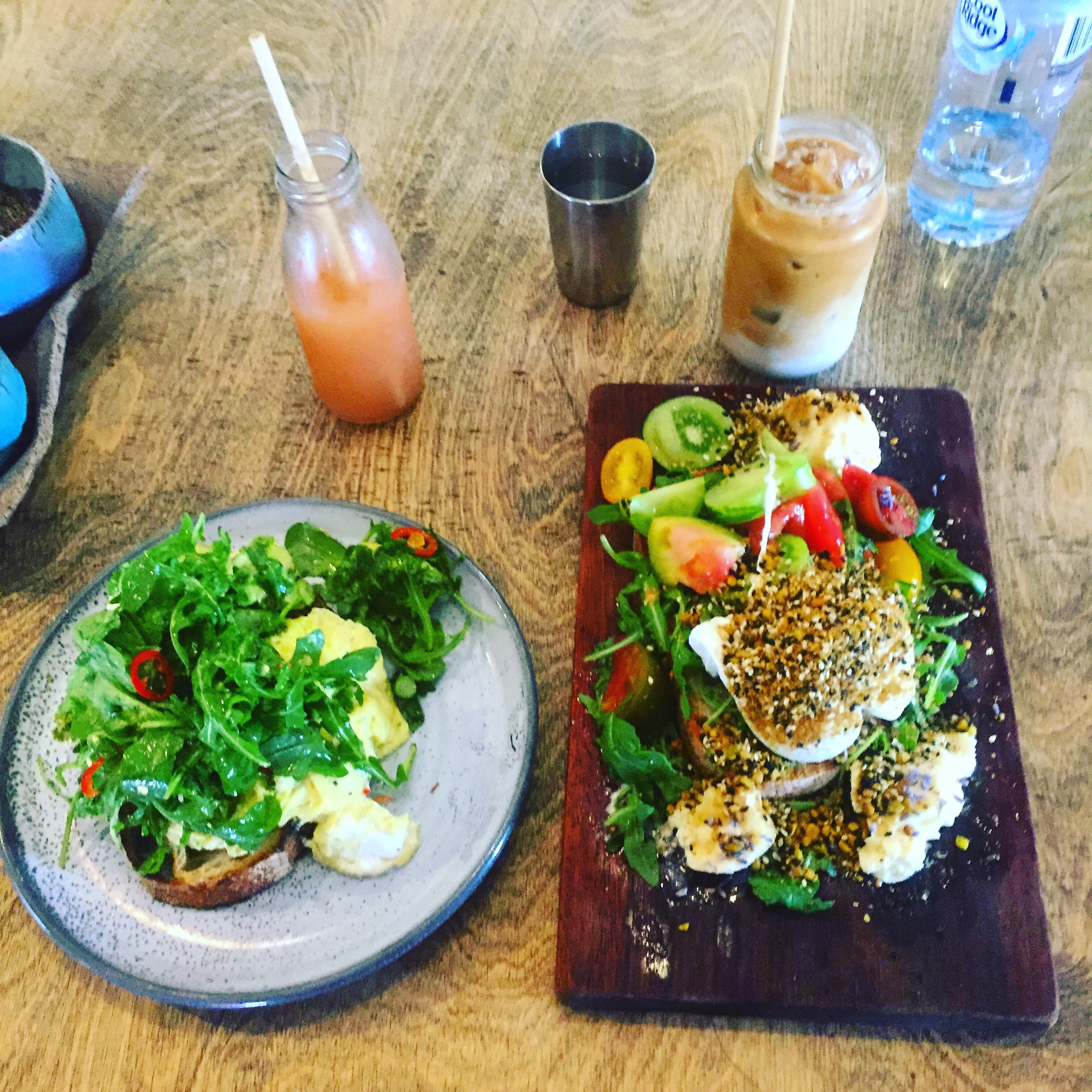 Oh em gee. Bayleaf's Salted Caramel Latte is the best coffee I have ever had. I am not into flavor or sugar in my coffee but this didn't even taste sweet. It was absolutely perfect.
One thing I wanted to avoid was going anywhere twice as there are too many places to explore in Byron! However, we went to Bayleaf a few times. The first for a casual lunch and the second to meet a friend for coffee. I may have already mentioned my feelings on the coffee? LOL. But on top of that, the toasts and smoothies were also incredible.
And the vibe is just so typically Byron. Everyone knows each other, everyone is friends. It is bustling and communal but still relaxed and you will feel right at home.
Although, this place may seem overpriced and overhyped for a such a small dining room, semi overlooking the beach... The food was delicious and everything I wanted for my last lunch in Byron.
It is hard to really enjoy something when you know that the other person isn't feeling the meal or the restaurant. My lovely Mother just indulged me because she knew that I wanted a bougie lunch at Rae's.
The cocktail didn't win my love but I knew I was feeling wine so I should have just gone with my gut instinct. However, the recently renovated Mediterranean decor made up for the not so fabulous drink.
Also, the highlight may have been the waitress who gave me the best advice of my life, "You can never regret a swim". So after lunch, I braved the not so ideal weather and went in the ocean anyway and she was absolutely right. It was refreshing and perfect and it made my last day in Byron. The weather didn't matter, the ocean is and will forever be my happy place.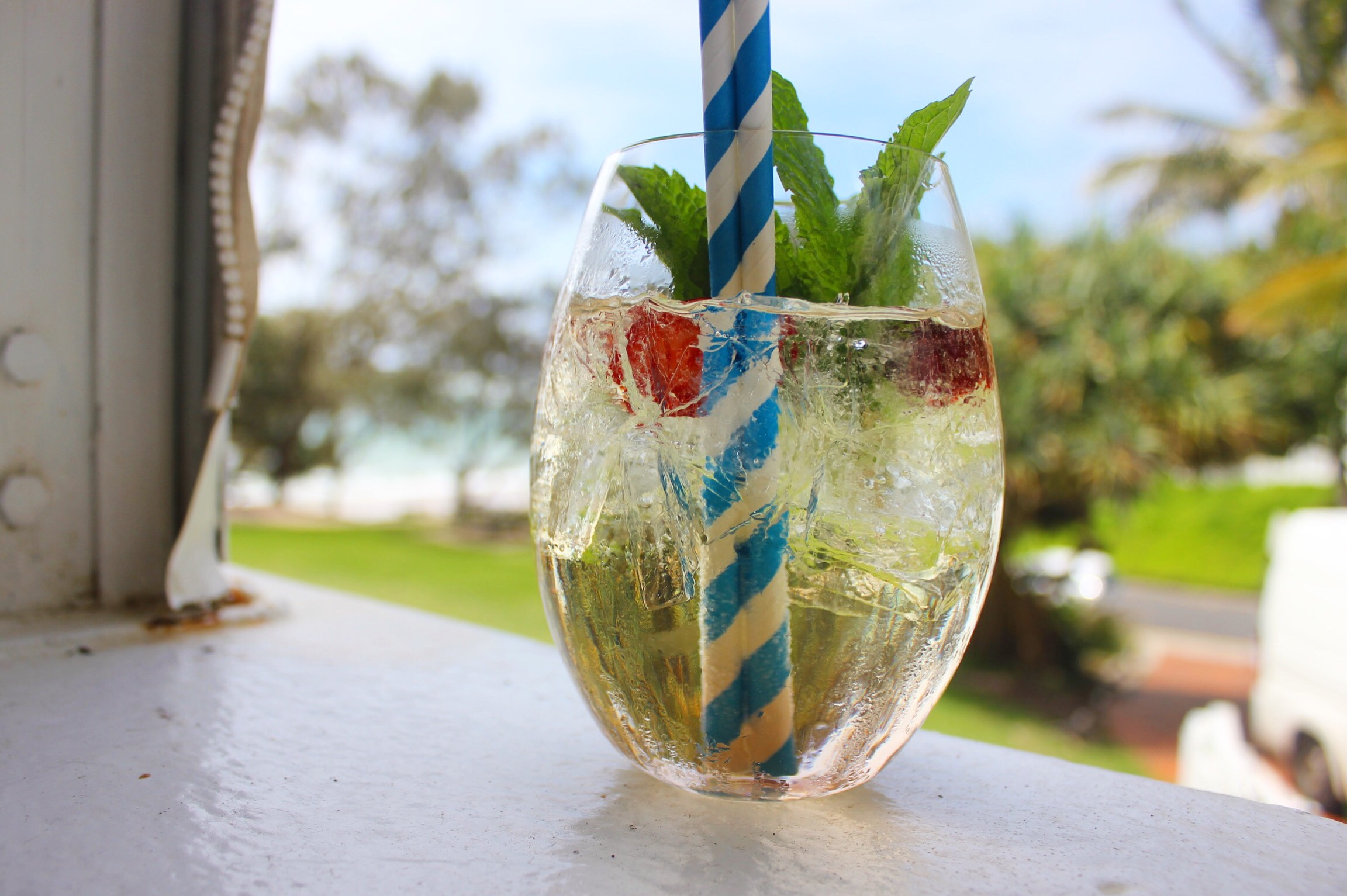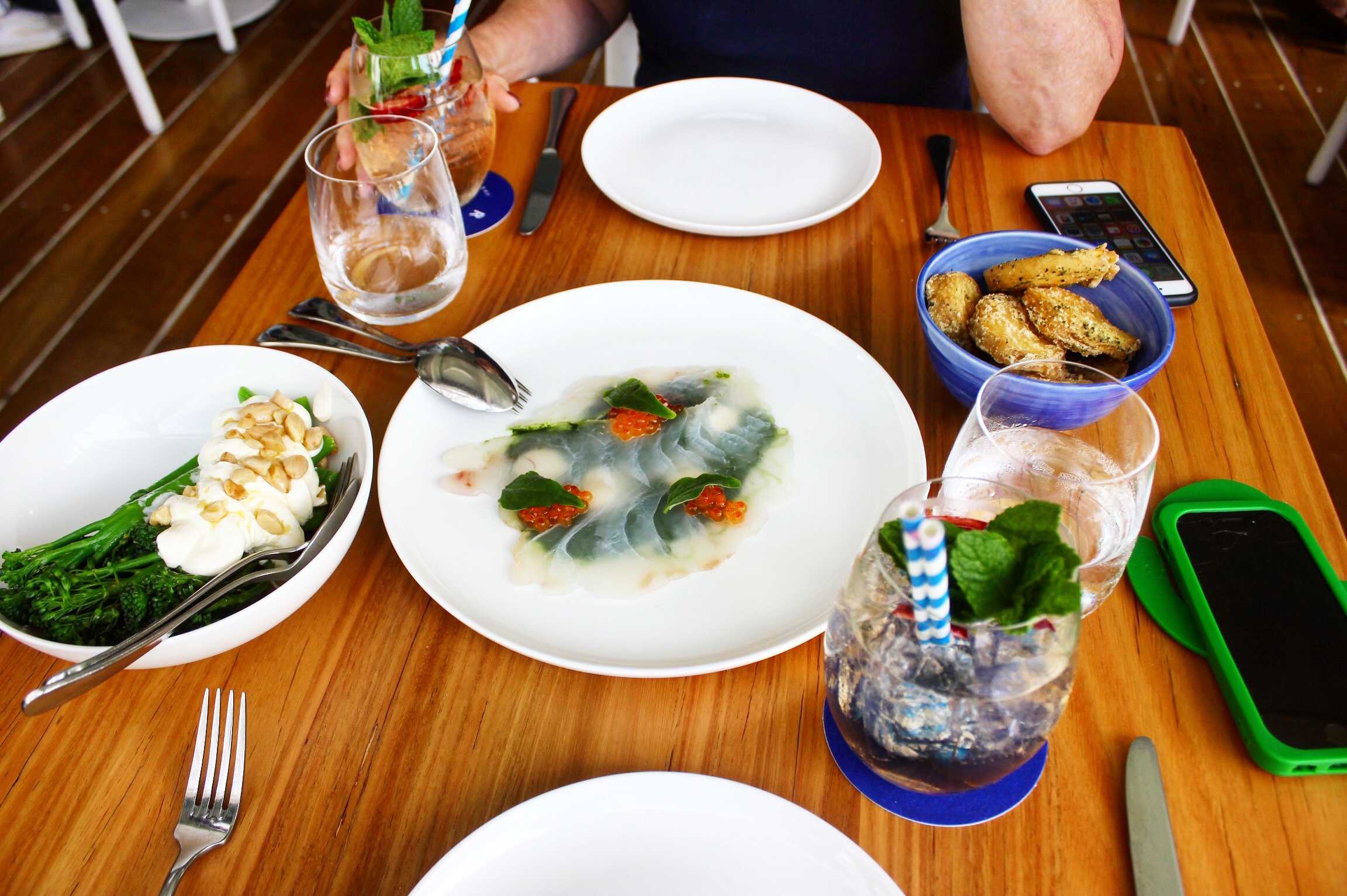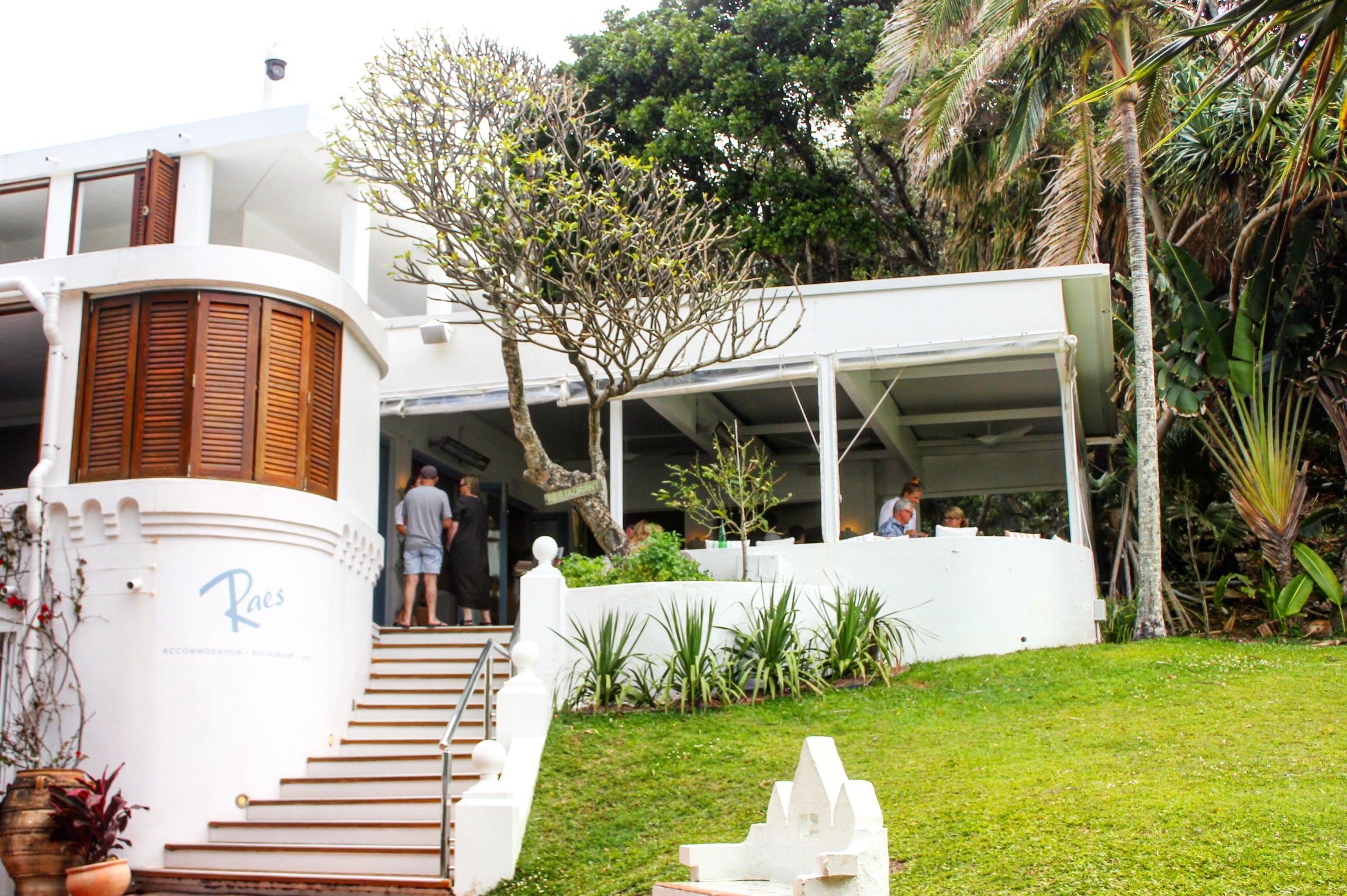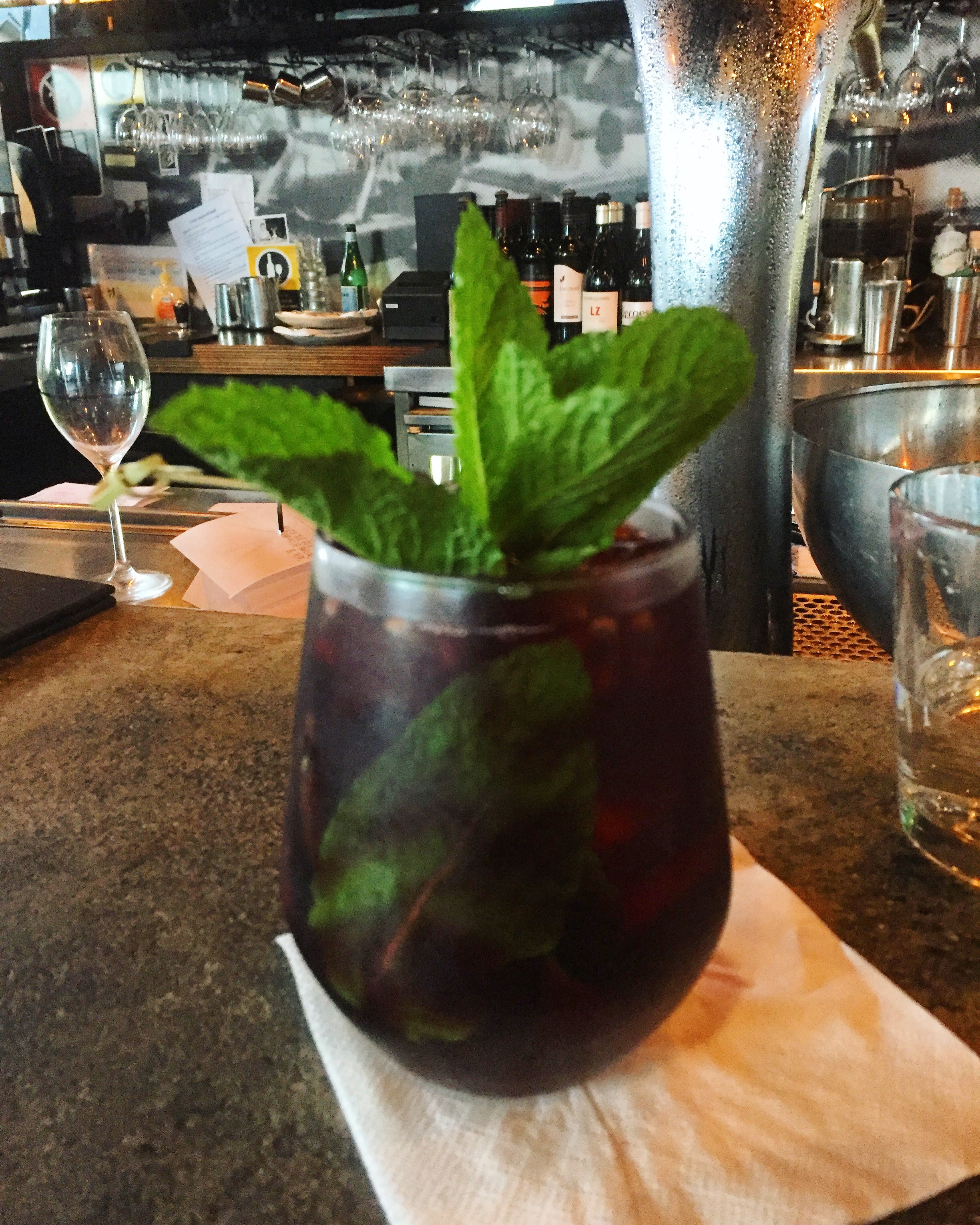 Yeah okay, there may be a little bias here. But, even if I wasn't friends with the people who own this place, it would still make the list because the food is sensational. My Mom and I were taken aback every single time we took a bite. My mother also made sure that the chef knew she thought it was ten times better than Rae's on Wategos. I'm sure it is all incredible but we especially loved the Calamar, the Haloumi, the Ceviche and the Calabaza. Also, the most annoying part about the food being so good is that I didn't even have time to photograph it because all we wanted to do was eat it. Five million (totally objective) stars to Tom Miller and Angela Honeywell.
I mean $1.50 Oysters on Wednesdays, that's amazing for Australia. I wouldn't even care how the rest of the meal is.
However, it was DELICIOUS! We loved the prawn sliders and the eggplant. Prawn sliders, why aren't they on every menu? And the eggplant just fell apart as you picked it up with your fork. Yes, please. And, I mean you can never go wrong with a NZ Sauvignon Blanc. Never, ever, ever.
I definitely recommend checking this place out as they have different nights for deals every night of the week and the vibe is great!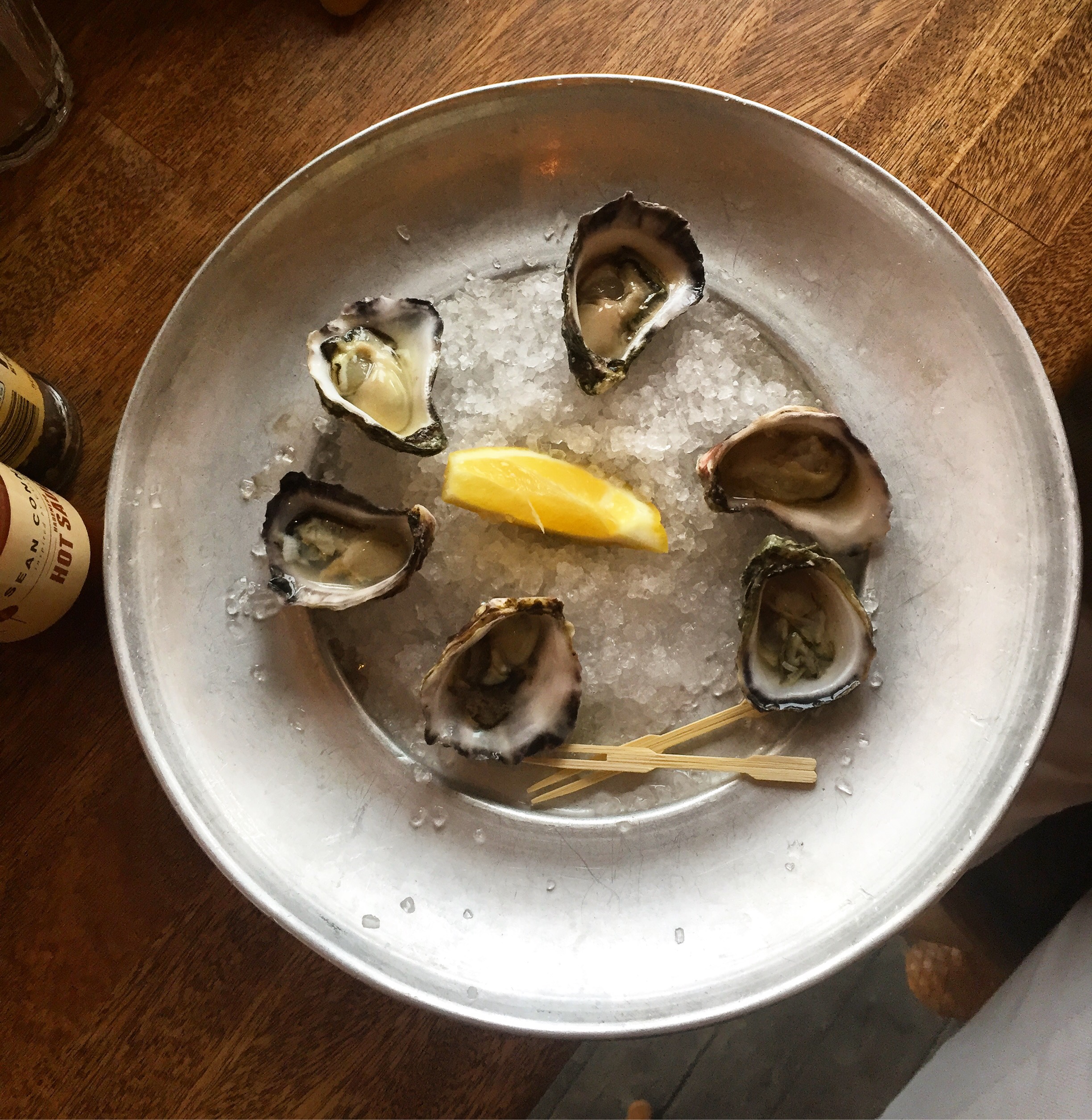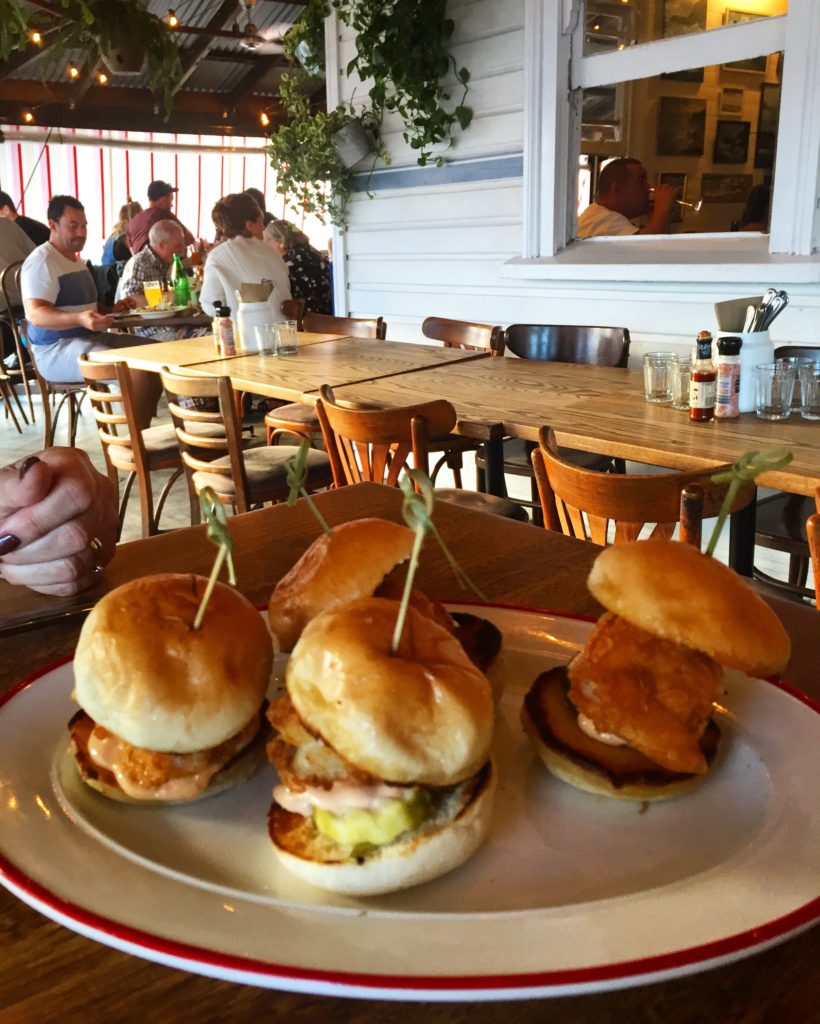 The Salted Caramel White Russian. That's all I have to say. And again, I don't love sweet drinks but this was possibly my favorite alcoholic drink of the trip. And I that's saying something because I drank a lot of my ONE true love: Sauvignon Blanc from Marlborough, NZ. But this drink was amazing and I may have had two of them.
I also was obsessed with the decor in this space. This place looks like it'd be great for afternoon drinks too, we just didn't have time to do all the things we wanted to do!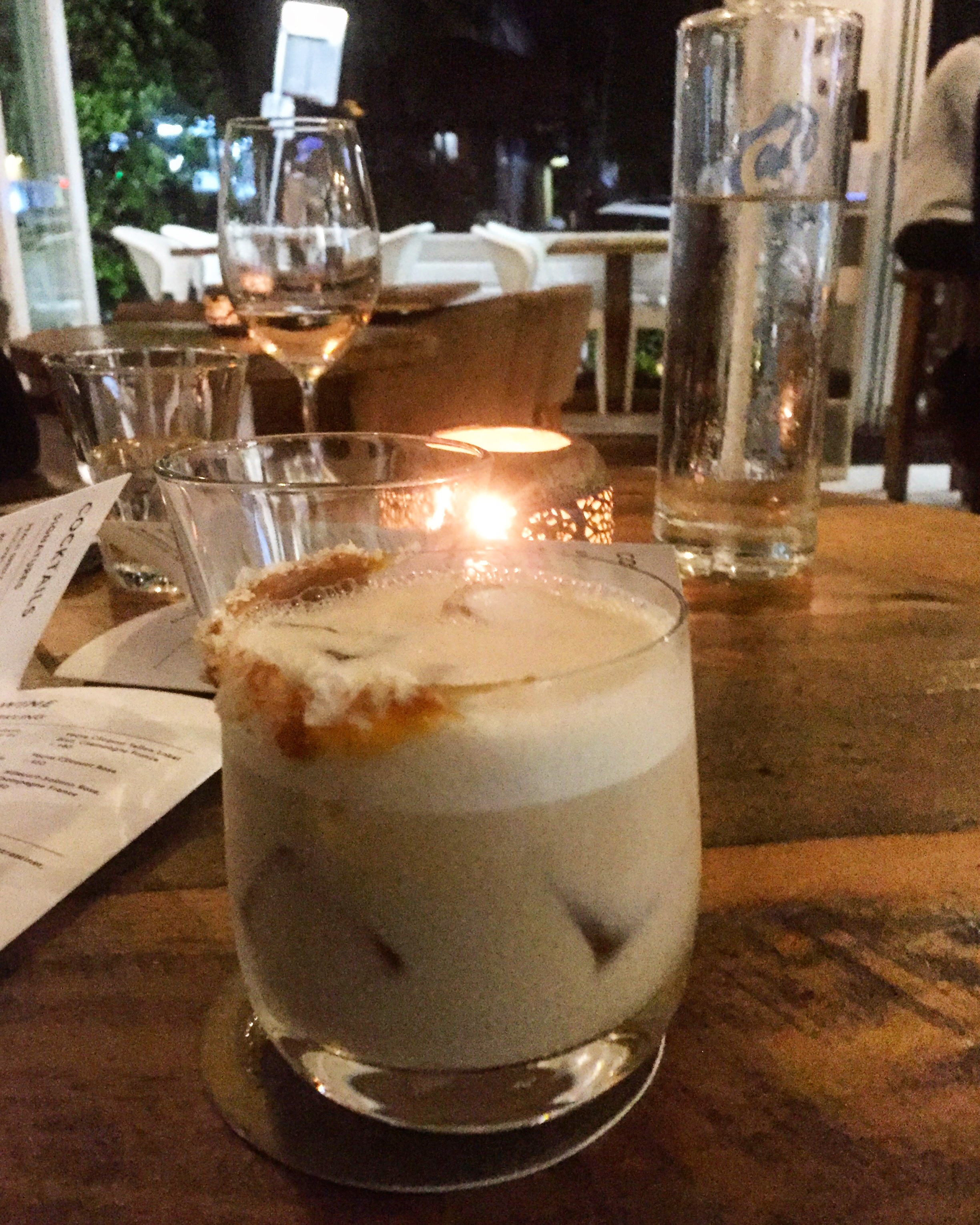 Things We Did:

THE LIGHTHOUSE WALK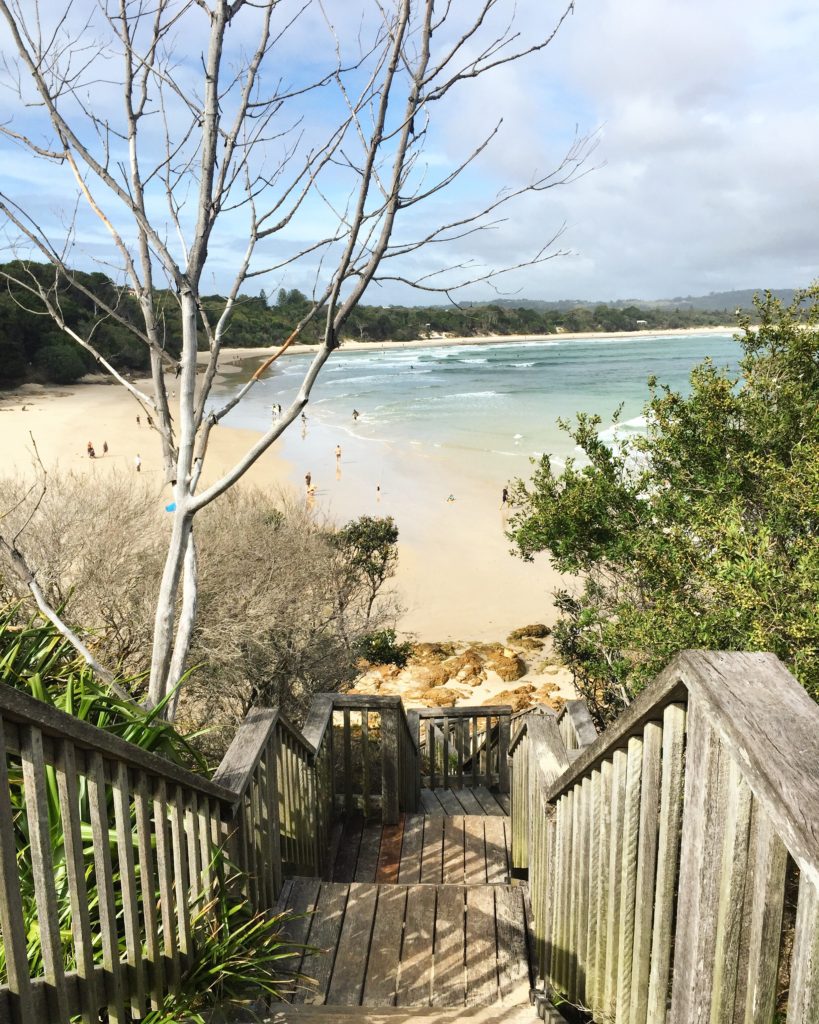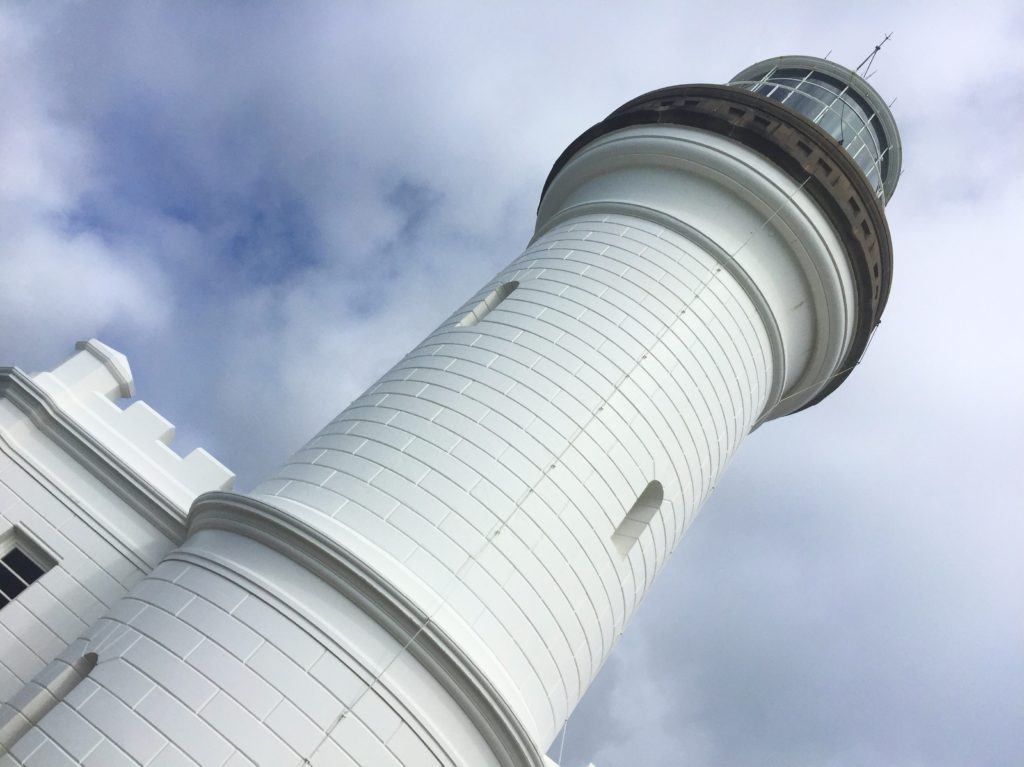 It's a bitch of a hike to the light house and there are a lot of stairs but it is totally worth the burn. 3.7km never looked so good. Picturesque beaches, whale watching, rain forest and the historic light house which dates back to 1901.
But definitely be sure to do it when it's not midday and 100% humidity, that would be a killer. I was quite envious of the Byron locals (some doing the whole thing with a baby on their chest), as they clearly do this daily and they likely have buns of steel.
You can't go to Byron and not do this walk, so grab water and take a look at the weather and get those glutes working!
SHOP, SHOP, SHOP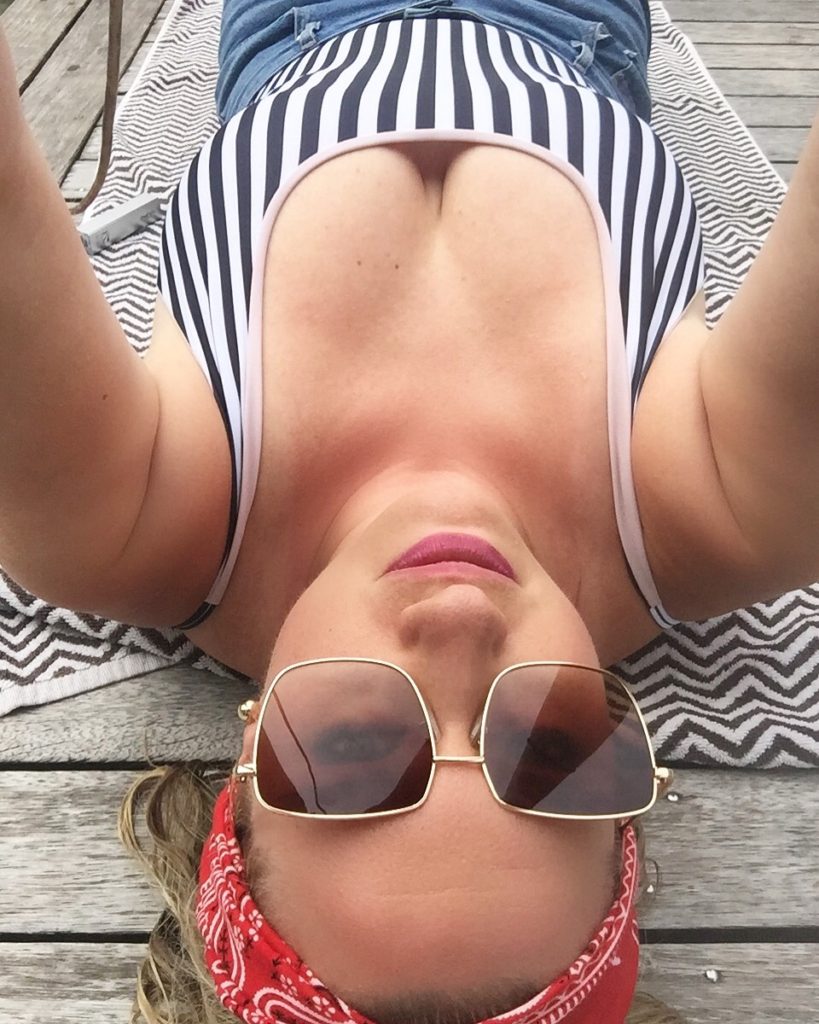 Sadly, I wasn't in the mood to shop much on this trip but if I was I could spend all day in the little boutiques. These new sunglasses are from a little boutique named "Mimosa". The one thing I regret most is not spending more time in one of my favorite labels: Mister Zimi.
SWAM IN THE OCEAN

I was determined to make it in the Ocean on this trip, which made it difficult as the weather wasn't great. Previous Byron memories are mostly in the ocean, swimming and kayaking with dolphins and sea turtles or surfing the perfect beginner waves. This was not how I remembered mainly because the weather just was not cooperative. But hey, I did it and it was definitely worth it. It may have been cloudy, it may not have been hot but you really can never regret a swim. I always feel better in the water, even if it is ice cold.
LAID BY THE POOL

This is probably my favorite thing to do on any trip, actually also in life. We didn't have much sun but you bet I tried my hardest to get some by the pool. I even took a swim, even though it was freezing. I lasted a few minutes, just in time to take this photo!
GOT PAMPERED

When it's raining in Byron, pampering yourself is one of the best things you can do. I really wanted to check out a bougie spa at one of the hotels out of town but we just didn't have time. I think the moral of the story is that three days really isn't long enough. But we found a place for a massage and I wasn't mad about wasting time inside seeing the sun wasn't even out!
FINAL THOUGHTS...
Unfortunately, we didn't have enough time and there were many things we didn't get to do. However, it just gives us another reason to go back. What we did get to do in our short three days was incredible and I would love to do it all over again.
Until next time, Byron Bay. x