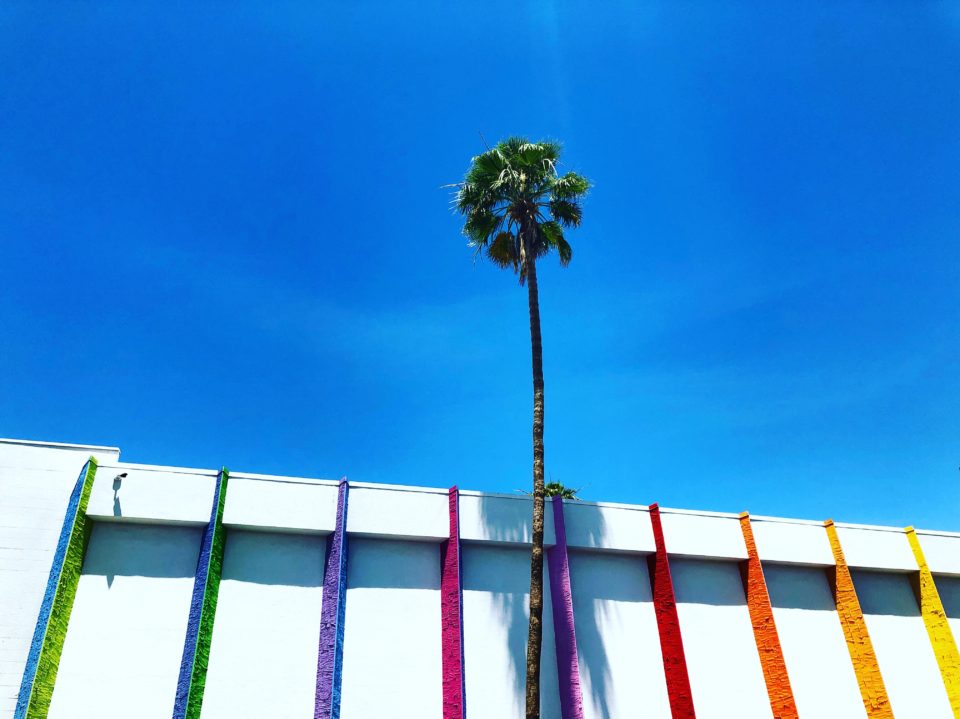 Anyone who knows me knows that lying by a pool in the sunshine is basically all I need in life. Add in some relaxing tunes, a beverage (not necessarily alcoholic) and a book and I am set. So when my friend came up with the idea we head to the desert for a weekend in May, I was in. What I hadn't anticipated was that the weekend before I would fly to Sydney for a wedding so my exhaustion and lack of funds meant it was a quiet but super relaxing weekend.
Where We Stayed:
The Saguaro Hotel, Palm Springs
1800 E Palm Canyon Dr, Palm Springs, CA 92264
We had decided we really wanted to stay at the "colorful hotel". I went through a phase where I was super obsessed with all the color/DIY bloggers on Instagram and although I knew it wasn't the bougie boutique-y hotels I prefer, I really wanted to check it out.
When I say the hotels I prefer, I mean the hotels without pool parties and the younger crowd doing shots by the pool. The Saguaro Hotel is extremely fun in terms of color, design and decor but the one downfall is it is a bit of a scene. The first night, we went to the bar and there was a wedding party (who were there for the entirety of the weekend). I won't go into detail but they quite obnoxious and gave us a bad first impression. I know I can't judge a hotel by it's guests obviously but it did turn me off going back if I had to interact with that crowd again. But in saying all of this, the staff was lovely and my drink was tasty which really is all that matters!
Our first pool day went down similarly to the bar experience. We went for breakfast away from the hotel and came back to a rave by the pool. Okay, that's an exaggeration. But anything that has an overly pumped up beat (think anything more than Foster the People or Passion Pit) and is so loud that you can't hear yourself think, is basically a rave to me! Now, everyone enjoys different things and different tastes. My taste just tends to be Jack Johnson by the pool while I gradually and unintentionally fall asleep while reading my book. I do not enjoy 20+ people standing in a pool yelling obnoxiously over the DJ and spilling their drinks in the pool or worst case, vomiting in the pool. To be clear, the latter didn't happen because we were not in Vegas, but some Palm Springs hotels have definitely started to turn a little in that direction.
What is hilarious is we had thought about going to the Arrive Hotel pool if ours was a little too much of a party for our taste. The next day when we were on our way to get Ice Cream at said hotel, Fleetwood Mac "Dreams" came on my Spotify. I said to my friend, "See this song I would be happy with listening to by the pool". When we arrived at the Arrive (there was not a better way to put that), that song was actually playing by the pool. We chuckled and decided maybe that is the hotel we should stay at next trip!
Our second pool day was definitely more chill. The trick seems to be to get there before 11am and luckily it was already 80 degrees at 9am. That way the DJ hasn't started and the bar hasn't opened. What I mean by that is, people aren't pushing you out of the way because they want another tequila shot. We had a pretty great few hours by the pool on the Sunday, including breakfast which was delicious!
All in all, the rooms were great for the price, the food was amazing, the design of the hotel is on point and the staff were great. As I said, you can't judge a hotel by the crowd and luckily our stay at the hotel did make up for some of the guests we encountered at the hotel.
Where We Ate:
Wexler's Deli
1551 N Palm Canyon Dr, Arrive Hotel, Palm Springs, CA 92262
I know it is an LA restaurant but for some reason all I wanted when I saw they had a Wexler's Deli was "The Jewish Girl". I had been dreaming of a bagel with avocado and cream cheese for weeks. And, it was everything I dreamed of and even more.
The Saguaro Hotel - Poolside Cafe
1800 E Palm Canyon Dr, Palm Springs, CA 92264
Breakfast by the pool was delicious and so were the tacos we had for lunch. Pretty incredible for by the pool. There was actually a lot more on the menu that I wanted to try (including the Smoked Salmon Toast) but we just didn't have enough time... Sadly!
Juniper's Table
100 W Tahquitz Canyon Way, Palm Springs, CA 92262
I had hoped to make it to Birba but sadly they were booked up so we headed to Juniper's Table. At first I was thrown that no one was at the restaurant but it slowly started to fill up and there was a musician which made it all very romantic under the twinkling lights. The food was also pretty good. I loved the ambiance as a whole!
What We Did:
Moorten Botanical Garden
1701 S Palm Canyon Dr, Palm Springs, CA 92264
I have been known to love a cactus or two. So, my friend thought I would enjoy this place. She was correct! Sadly, I didn't buy any cacti but I definitely enjoyed taking photos and admiring all of the plant life. And as always (because a love a friendly reptile), I liked watching the tortoises as they ate their salad.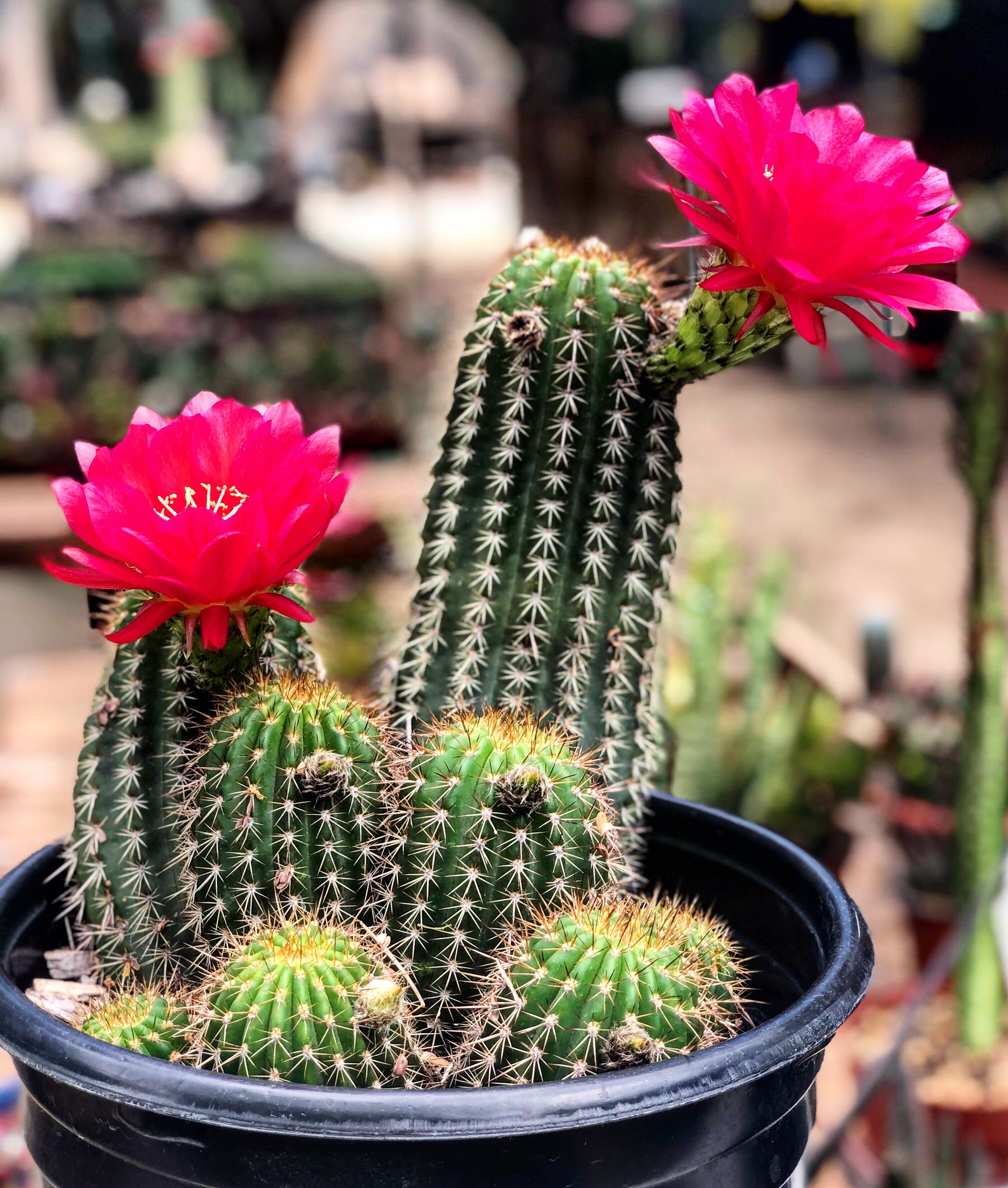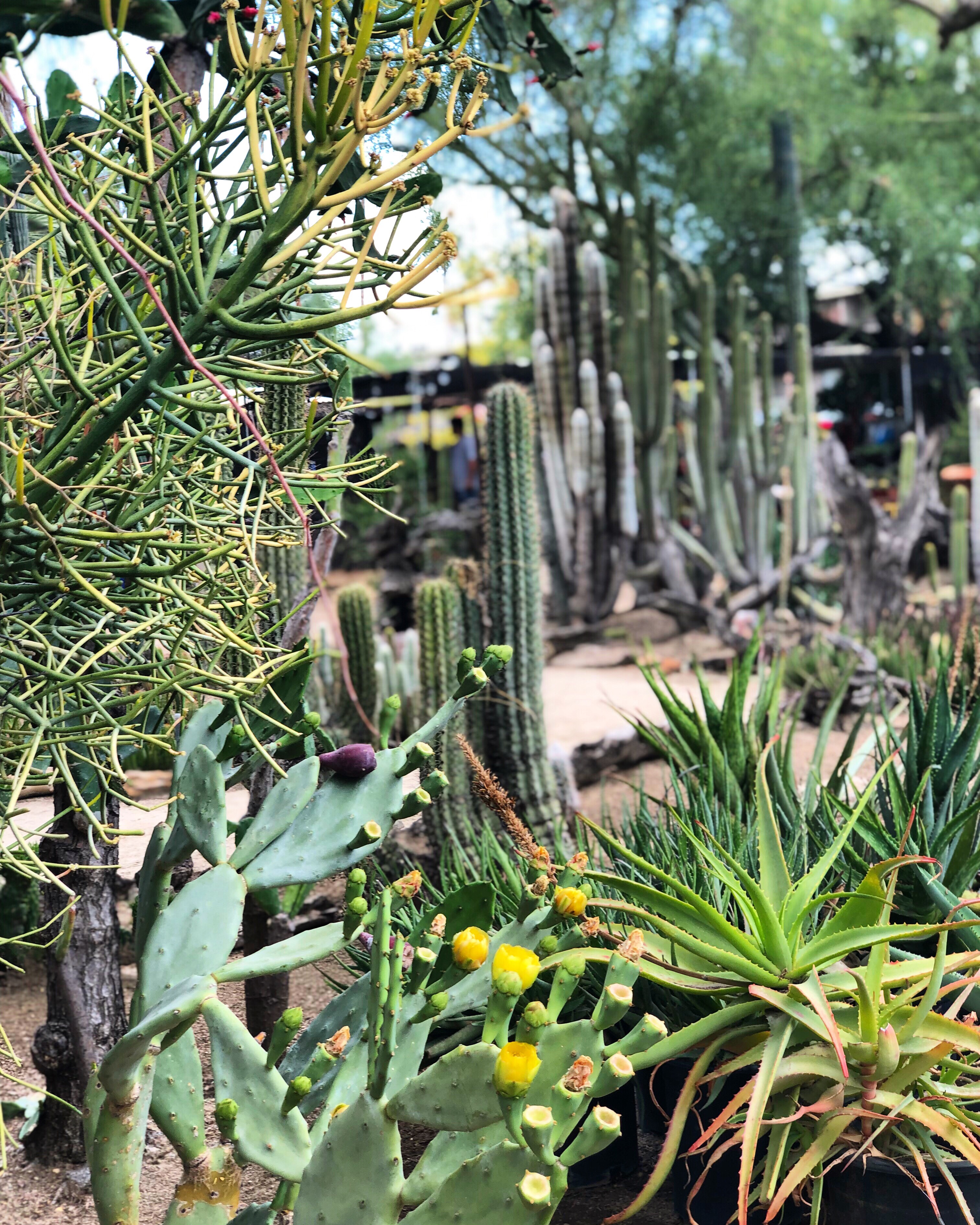 Pool Time at The Saguaro Hotel
This has already been covered in great lengths above so here are some photos instead!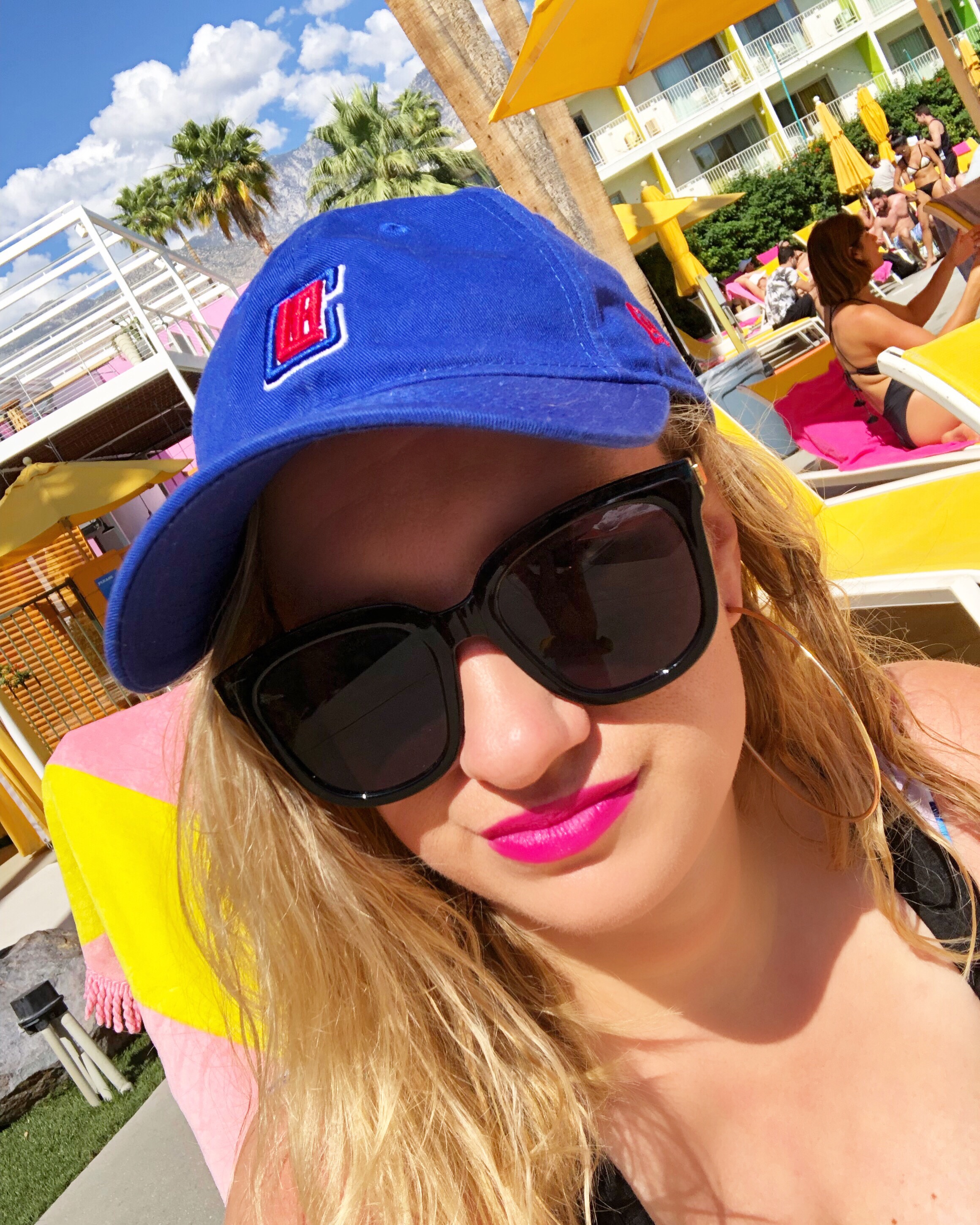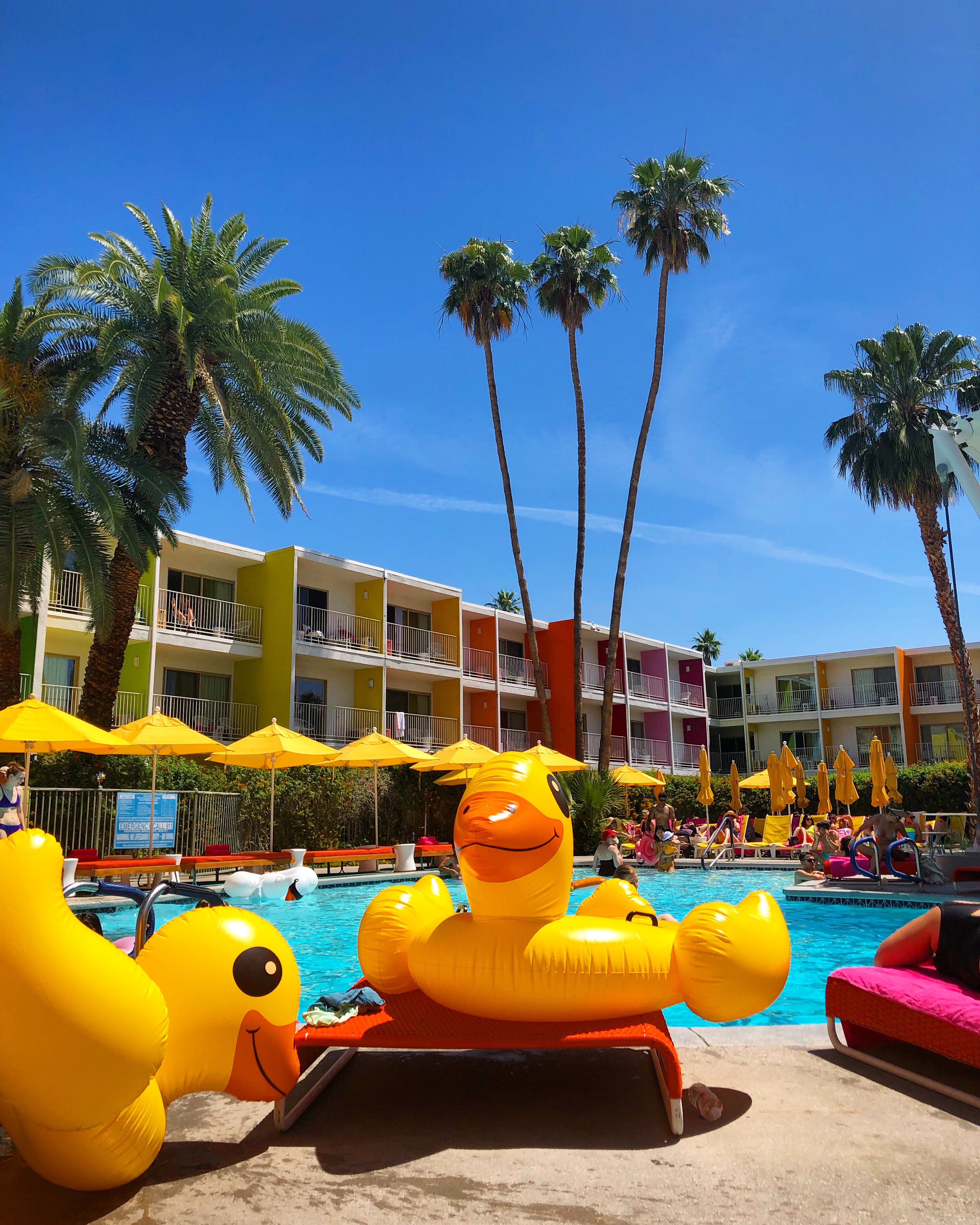 Palm Springs Houses
Indian Canyons Neighborhood
E. Sierra Way, Palm Springs CA 92264
I stalk houses (exteriors and interiors) online all day, every day (when I am not working of course!). I have always loved the Scandinavian design aesthetic which centers around minimalism with pops of neutral or pastel colors. However, my living spaces never turn out that way and I have now realized, they have a more Palm Springs feel to them. Colorful mid-century modern meets minimalist chic with some tropical vibes. Needless to say, I HAD to visit the Palm Springs colored doors as the Saguaro was only a few minutes below. Next time, I would like to spend more time perusing some of these houses, check out some of the hotel interiors (like the Parker) and also shop at some of the home wares stores. There is a reason they hold Modernism week in Palm Springs. Because, nowhere does colorful Mid-century modern like Palm Springs does.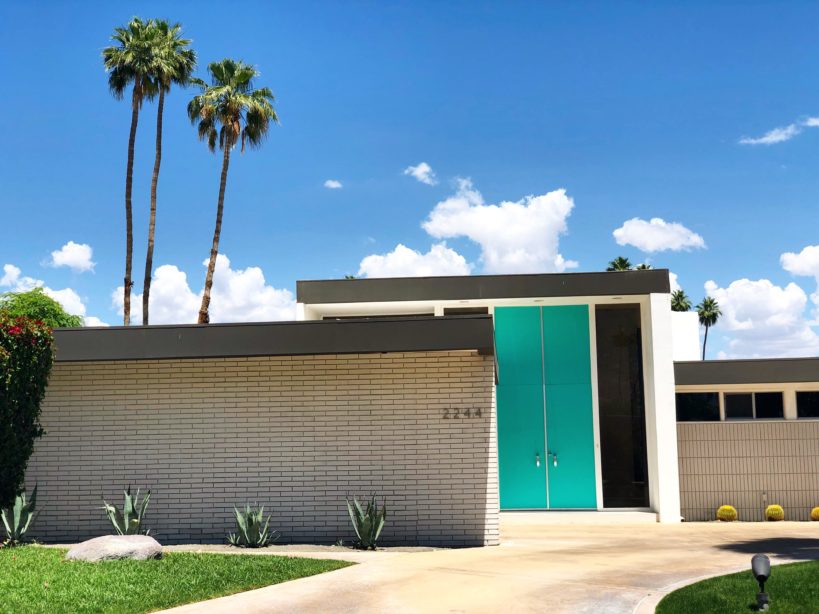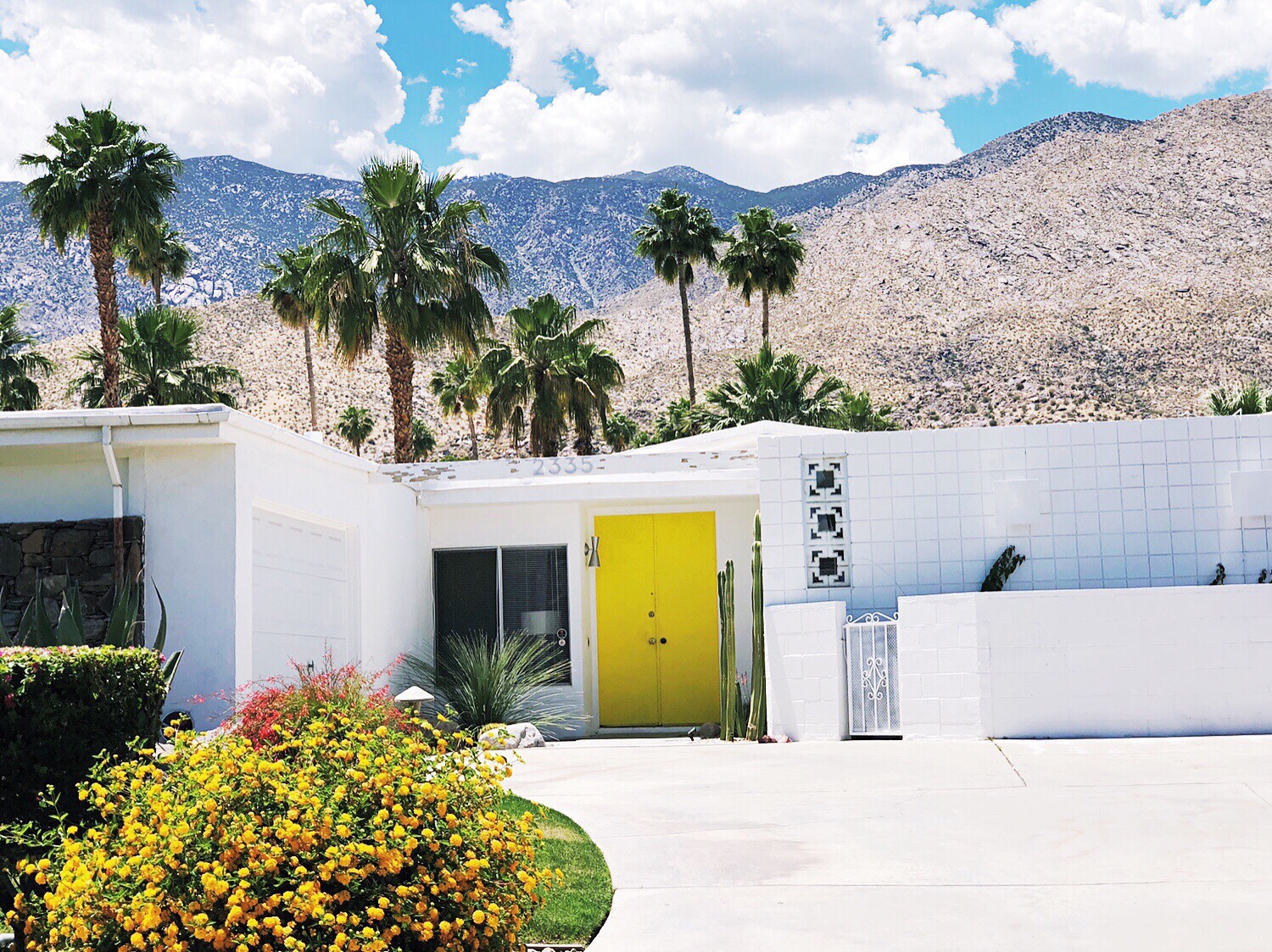 The Ice Cream Shop(pe) at The Arrive Hotel
My friend had mentioned an ice cream place she went to but couldn't figure out the name. I decided it was probably the one I wanted to go to but I didn't push her on it. When we arrived, she exclaimed "This is IT!". It also has a little gift store inside filled with Sunny Life products aka the perfect Palm Springs items!
You might also like